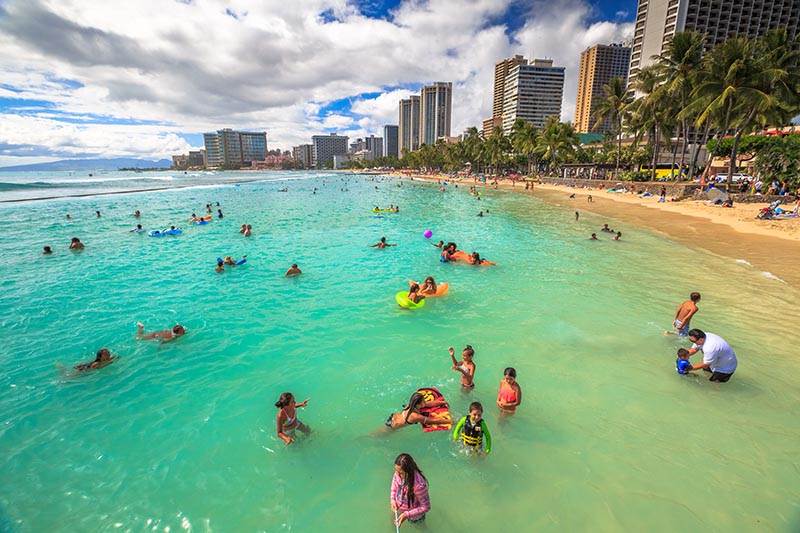 Waikiki Beach, Oahu
Benny Marty/Shutterstock.com
Once you're at the beach, there are many things you can do to stay safe and reduce your risk of injury or drowning.
Swim near a lifeguard
Check with a lifeguard about current conditions and potential safety hazards before you go in the ocean. Pay attention to public address announcements and any other warnings issued by lifeguards.
Observe all posted beach warning signs
These signs indicate dangerous ocean conditions.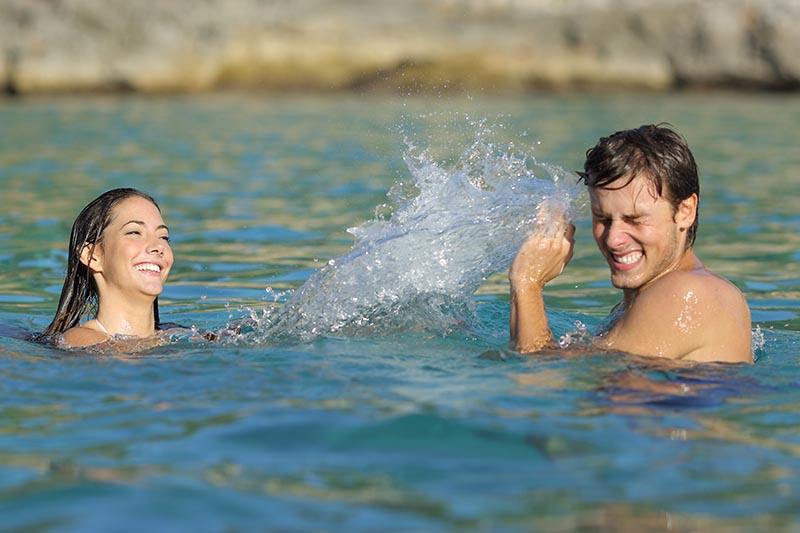 Always swim (or splash around!) with a friend
Antonio Guillem/Shutterstock.com
Swim with a buddy
Look out for each other in case of an emergency. At the very least, always have someone on shore watching you. You should also tell one other person who is not at the beach with you which beach you are at and when you will be back.
Swim during daylight hours
Avoid swimming before sunrise or after sunset when it is dark outside and visibility is poor. Wind activity often picks up in the late morning or afternoon, which can make paddling back to shore more difficult.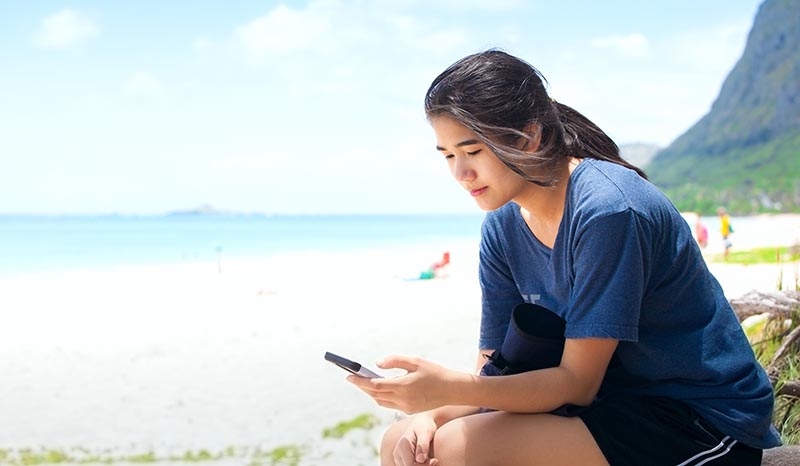 There are many free apps that can give you the local weather. Some even include a local surf report.
Jaren Jai Wicklund/Shutterstock.com
Check the local weather forecast
In addition to information about potential storms or high winds, local weather reports often include a surf report with a forecast of wave heights at the various facing shores. Pay attention to changes in weather conditions, and return to shore at the first sign of bad weather.
Only use water equipment from a licensed vendor
Learn how to use the equipment properly before entering the water.
Use caution when using flotation devices in the water
Ocean currents and winds can quickly carry inner tubes, pool rafts, floaties and other inflatable devices away from shore, taking you along with them.
Enter the water feet first
Diving headfirst into water you have never been in before can lead to serious head, neck and back injury. Check for depth and obstructions, such as hard rocks or sharp coral, before going in.
Stay close to the shore and locate a safe way to get out if necessary
If you become tired, you will be able to exit the water faster. Staying close to the shore also allows lifeguards to get to you quicker in an emergency.
Always be aware of the ocean's activity
Pay attention to wave action to avoid being knocked over or becoming disoriented. Even gentle, shallow water can quickly become powerful and dangerous.
Always be aware of your surroundings
Be careful of sharp rocks, coral or sea creatures on the ocean floor that could cause injury. Pay attention to other swimmers, snorkelers or beach vessels to avoid colliding with them.
If you need help, stay calm and get a lifeguard's attention
If you become uncomfortable in the water and need help getting back to shore, stay calm, raise your arms in the air and wave them from side to side. This will get the attention of a lifeguard or others on shore. Remain calm, conserve your energy and focus on staying afloat or treading water until help arrives.
If you see someone in the ocean calling for help or appears to need help, call 911 immediately
Describe your location and wait for help to arrive.
Stay hydrated
Drink plenty of water to prevent yourself from becoming dehydrated, especially while in the hot sun. Avoid caffeine, alcohol, and sugary drinks, which also contribute to dehydration.
Stay sober before and while participating in ocean activities
Drugs and alcohol impair your judgment, balance and coordination, affecting your ability to swim safely. Alcohol also reduces your body's ability to stay warm. Consult your doctor to see if it is safe to be in the ocean or out in the sun if you are taking prescription medications.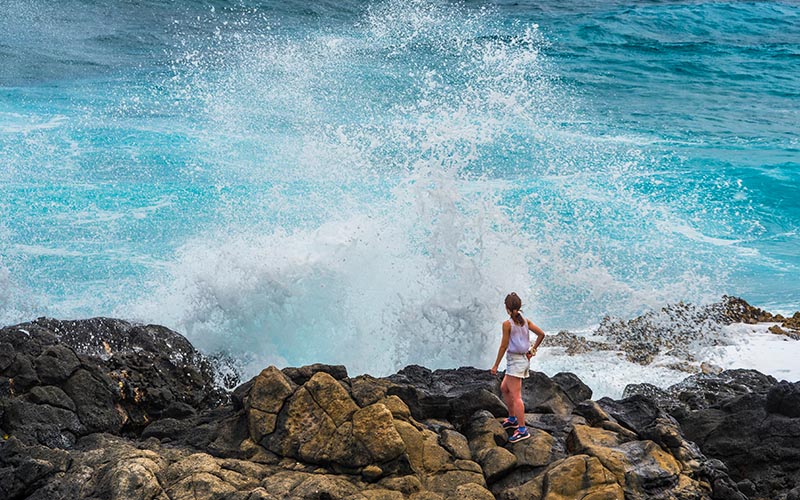 Rogue waves can unexpectedly knock a person into the water and cause serious injury.
Phillip B. Espinasse/Shutterstock.com
Do not climb on wet rocks or ledges
Wet rocks and ledges indicate a wave has recently washed upon them. These areas can become slippery, or you may also be struck and knocked over by a wave, resulting in a fall or other injury.
Do not jump off cliffs or sea groins
Serious injury could occur, especially if the water is shallow or murky.
There are other precautions to take when you're snorkeling at the beach, or even when you don't plan on going into the water at all. Read these other helpful sections on snorkeling and shoreline safety.
Going to the beach on Kauai or Maui? Watch a special ocean safety video for each island: